Create breakout rooms, polls, Q&A, and more now in Google Meet
October 26, 2020
Meet now offers VCU faculty/staff organizers options for

breakout rooms and the ability to increase engagement with Q&A and polls in Google Meet as well as noise cancellation and attendance reports.
Breakout Rooms
VCU faculty/staff organizers of meetings can use breakout rooms to divide participants into smaller groups during video calls in Meet. Participants can then easily rejoin the original meeting following their smaller group discussions.
You can create up to 100 breakout rooms in a call. Call participants will then be randomly and equally distributed across the rooms. You can also manually move people into different rooms. While only event creators can create breakout rooms, anyone with a Google account that is joining from the web or through the Meet app can be a participant.
Breakout rooms must be created during a video call on a computer.
Q&A
Q&A in Meet offers an easy way to engage audiences and help them get their questions answered. Use Q&A to help make meetings more inclusive, giving everyone the opportunity to ask questions— including those who may be soft-spoken, joining from a noisy environment, or need more time to process their thoughts. Participants can submit and upvote their favorite questions without disrupting the flow of the call. After a meeting, the moderator is emailed a Questions report. The report includes any questions asked, hidden, or deleted in the meeting, along with the names of participants.

Polls
Polls are a great way to quickly gauge the pulse of your audience. You can use polls to identify topics that need more discussion or test understanding of the meeting content. This means users can get real-time feedback from their colleagues to ensure they're absorbing the material. After a meeting, the moderator is emailed a report for any polls conducted in the meeting. The report includes the names and answers of the meeting participants.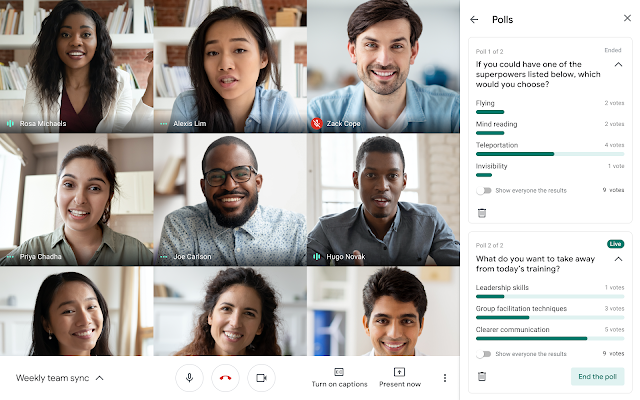 Noise cancellation
To help limit distractions in your video call, you can filter out background noise. Meet can remove background noises such as typing or closing a door.
Audio capture from screen sharing won't be affected by noise canceling.
Meet filters out noises that don't sound like voices. Voices from TV or people talking at the same time won't be filtered out.
If non-speech is an important part of your call, like playing musical instruments, turn off noise cancellation.
Attendance reports
Attendance reports will be generated for web or mobile meetings with at least five (and no more than 250) participants and will contain the following information for each:
Participant's name
Participant's email
Length of time a participant was on the call, including when they joined and exited
Google will also record the attendance of any participants who chose to dial in. The obfuscated phone number and name displayed during the meeting will appear in the attendance report.
If a meeting participant is ejected and re-admitted to the meeting, you'll see the time they first joined and the time they last left. The total duration of their attendance will be a sum of their sessions.
Resources
Google Help: Use breakout rooms in Meet
Google Help: Conduct a Q&A in Meet
Google Help: Conduct a Poll in Meet
Google Help: Filter out noise from your video conference on Google Meet
Google Help: Track attendance in Google Meet