More new features for Meet
March 3, 2021
Mute all Google Meet participants at once
Meeting hosts in Google Workspace can mute everyone all at once in Google Meet.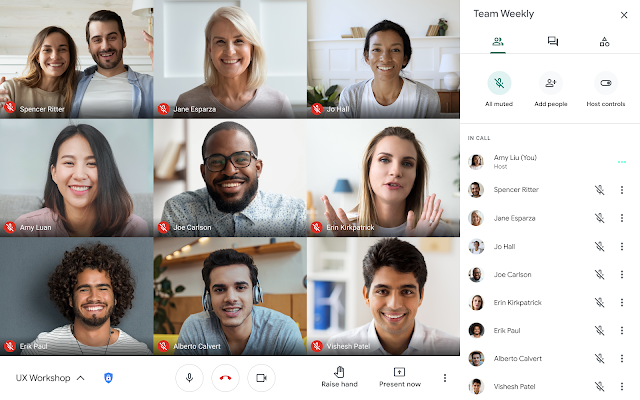 The meeting host is the only user in a meeting who can use the "mute all" feature. Once all participants are muted, the meeting host cannot unmute them. However, users will be able to unmute themselves as needed.
The mute all feature will only be available for hosts who are joining from a desktop browser but will be launching on other platforms in the coming months.
End a Google Meet video call for everyone at once

When you are done with a meeting and want to leave, you now have two options:
Leave meeting:

The host will leave the meeting, but the meeting will continue.
End meeting for all:

Everyone, including people in breakout rooms, will be ejected from the meeting. Participants will be informed that the host has ended the meeting. Once the meeting has been ended, people will not be able to rejoin, unless the host rejoins first.
Google recommends that, after ending a meeting, if you want to meet with a new group of people, that you create a new meeting. This can help prevent previous participants from joining.
Check your video and peripheral device quality before joining a Google Meet call
You can quickly preview how you'll appear to others before entering a Google Meet video call. You can use this new functionality to confirm that peripheral devices are properly configured and correctly connected, to check that your network connectivity is good, and to understand the impact of noise cancellation on your audio.
When a problem is detected, you'll see a warning and tips for troubleshooting common issues, like granting your browser permission to use the microphone or camera.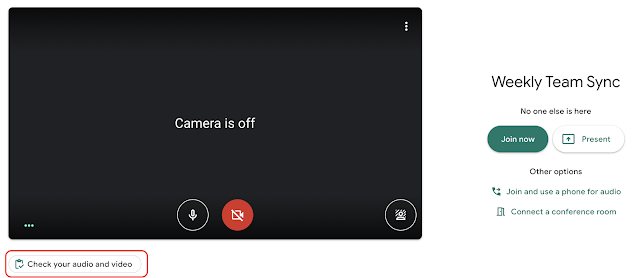 This will open the "green room," where you can preview your audio and video.
Resources
Google Help: Pin or mute Google Meet participants
Google Help: Add or remove people from a Google Meet video call
Google Meet Help: Preview how you look and sound before a video call
Google Workspace Learning Center: Troubleshoot issues with Google Meet