More options for sharing your availability in Google Calendar
March 15, 2021
More options for sharing your availability in Google Calendar
Google is adding two new options in Calendar, which will help you better communicate your work availability to your colleagues. You can:
Create repeating out-of-office entries.
Split your working hours into multiple segments each day.
At the moment, working hour segments will only be available on the web and repeating out-of-office entries on the web and Android devices.
You can use segmentable working hours to indicate when certain blocks of time are outside of your working hours. Working hours are visible on your calendar when someone schedules a meeting with you.
In addition to using repeating out-of-office entries for vacation time, you can use them to indicate the time when you need to handle personal commitments—like childcare, exercise, and more. They can also be used to better communicate part-time availability or certain days when you're consistently unavailable.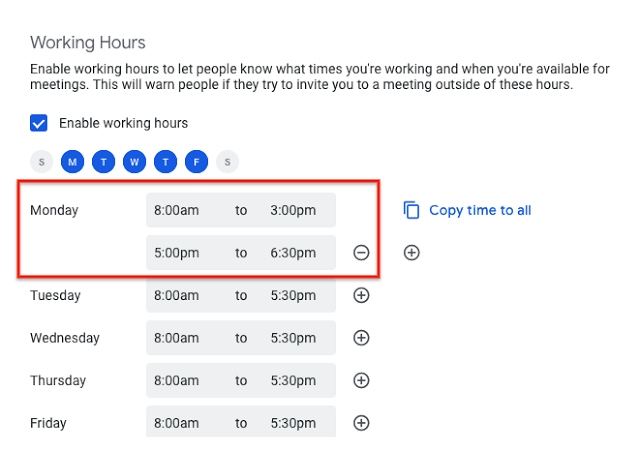 Repeating out of office entries and declining meeting behavior
If you create a repeating out-of-office entry and select "Automatically decline meetings," a decline meeting notification will be sent to the organizers of any meetings scheduled during your repeating out-of-office entry. If the declined meeting is a recurring meeting, those organizers may get multiple notifications—these emails are bundled for Gmail users, but not always for users of other email services.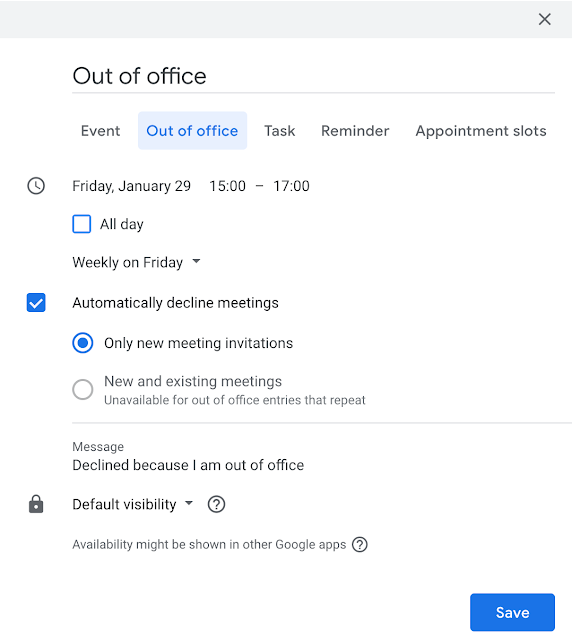 Resources
Google Help: Set your working hours & availability